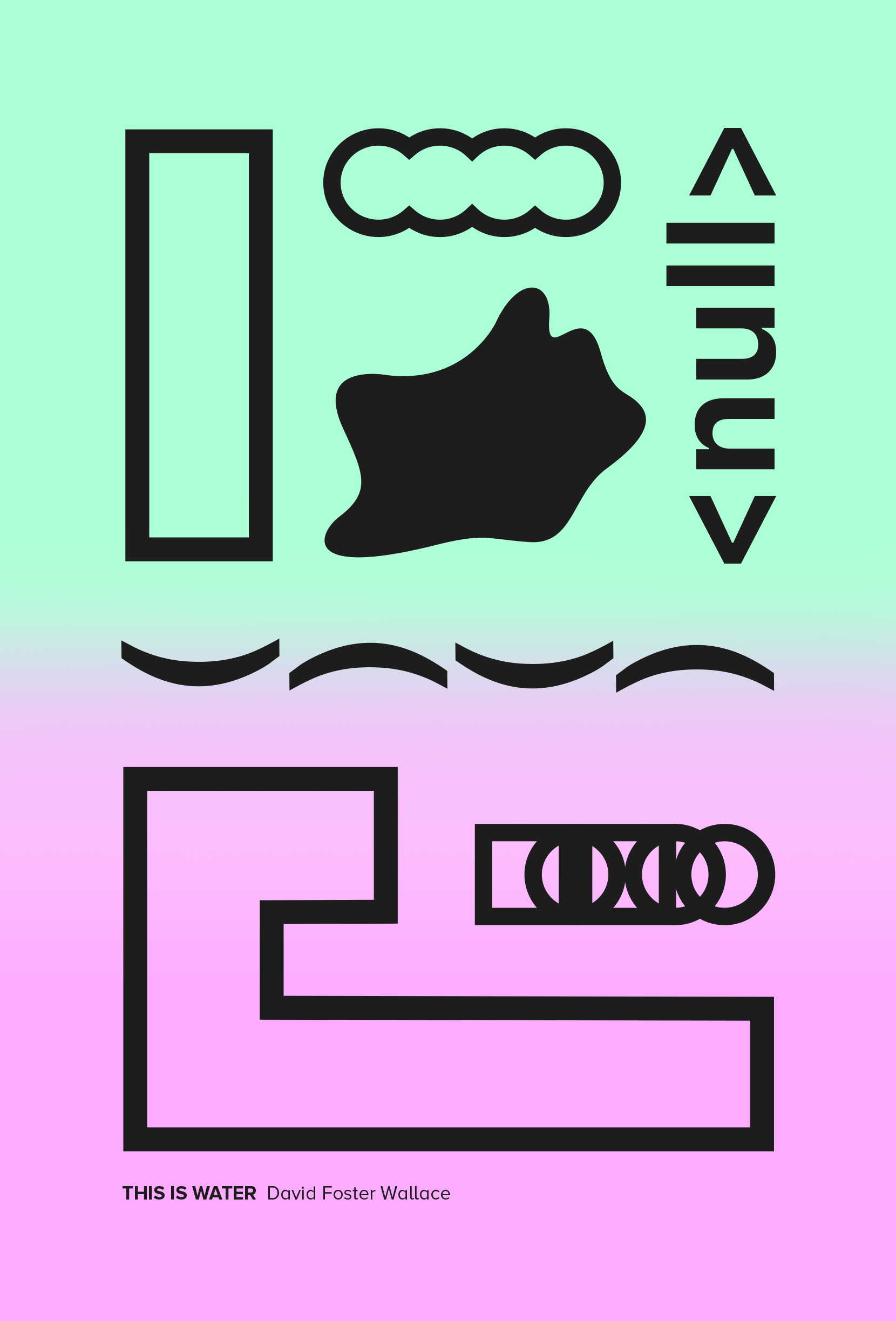 This Is Water
There are these two young fish swimming along, and they happen to meet an older fish swimming the other way, who nods at them and says, "Morning, boys, how's the water?" And the two young fish swim on for a bit, and then eventually one of them looks over at the other and goes, "What the hell is water?"

If at this moment, you're worried that I plan to present myself here as the wise old fish explaining what water is to you younger fish, please don't be. I am not the wise old fish. The immediate point of the fish story is that the most obvious, ubiquitous, important realities are often the ones that are the hardest to see and talk about. Stated as an English sentence, of course, this is just a banal platitude -- but the fact is that, in the day-to-day trenches of adult existence, banal platitudes can have life-or-death importance. That may sound like hyperbole, or abstract nonsense.

They are unconscious. They are default-settings. They're the kind of worship you just gradually slip into, day after day, getting more and more selective about what you see and how you measure value without ever being fully aware that that's what you're doing. And the world will not discourage you from operating on your default-settings, because the world of men and money and power hums along quite nicely on the fuel of fear and contempt and frustration and craving and the worship of self. I know that this stuff probably doesn't sound fun and breezy or grandly inspirational. What it is, so far as I can see, is the truth with a whole lot of rhetorical bullshit pared away. Obviously, you can think of it whatever you wish. But please don't dismiss it as some finger-wagging Dr. Laura sermon. None of this is about morality, or religion, or dogma, or big fancy questions of life after death. The capital-T Truth is about life before death. It is about making it to 30, or maybe 50, without wanting to shoot yourself in the head. It is about simple awareness -- awareness of what is so real and essential, so hidden in plain sight all around us, that we have to keep reminding ourselves, over and over: "This is water, this is water."

It is unimaginably hard to do this, to stay conscious and alive, day in and day out.