Project
Team


Minjung Kim

UX, UI Prototype


Hayoung Shin

UX, Video


Hao Xian

UX, User Test
Advisors
Thomas Gaskin (Doblin)
Roger Mader
Criswell Lappin
Overview
Help family caregivers spend more time for themselves.
According to our research, 69% of family caregivers feel angry, 55% feel depressed and 47% feel isolation in the United States. Based on our interviews, desk and field research, family caregivers feel guilty when they spend too much time for themselves. We set our goal as helping family caregivers to spend little time for themselves. My 30min provides a strong emotional motivation to them by connecting other family caregivers in a similar situation.
My role
Main User Interface Design / Interaction Design / Desk Research / UX Ideation / User Test
---
Desk Research
Feelings of Family Caregivers
What They Need
User Interview
Brenda
Female, Family caregiver for 5years, New York
Brenda was glad to take care of her mother, but she needed her own time for her health. Brenda had a stroke while taking care of her mother. She said that she used to walk a lot but after taking care of her mother, she stopped walking.
Jane
Female, Family caregiver for 6months, New York
Jane supported her father since he was also a family caregiver for his wife who has an Alzheimer's. She was a his mental supporter and felt that it helps his father to live his life again.
Jimmy
Male, Family caregiver for 6years, New York
Jimmy supported his father who had a dementia. He was a mental and physical supporter. He used to visit a senior center or an assosiation to gain a bunch of helpful information for caregiving from other family caregivers.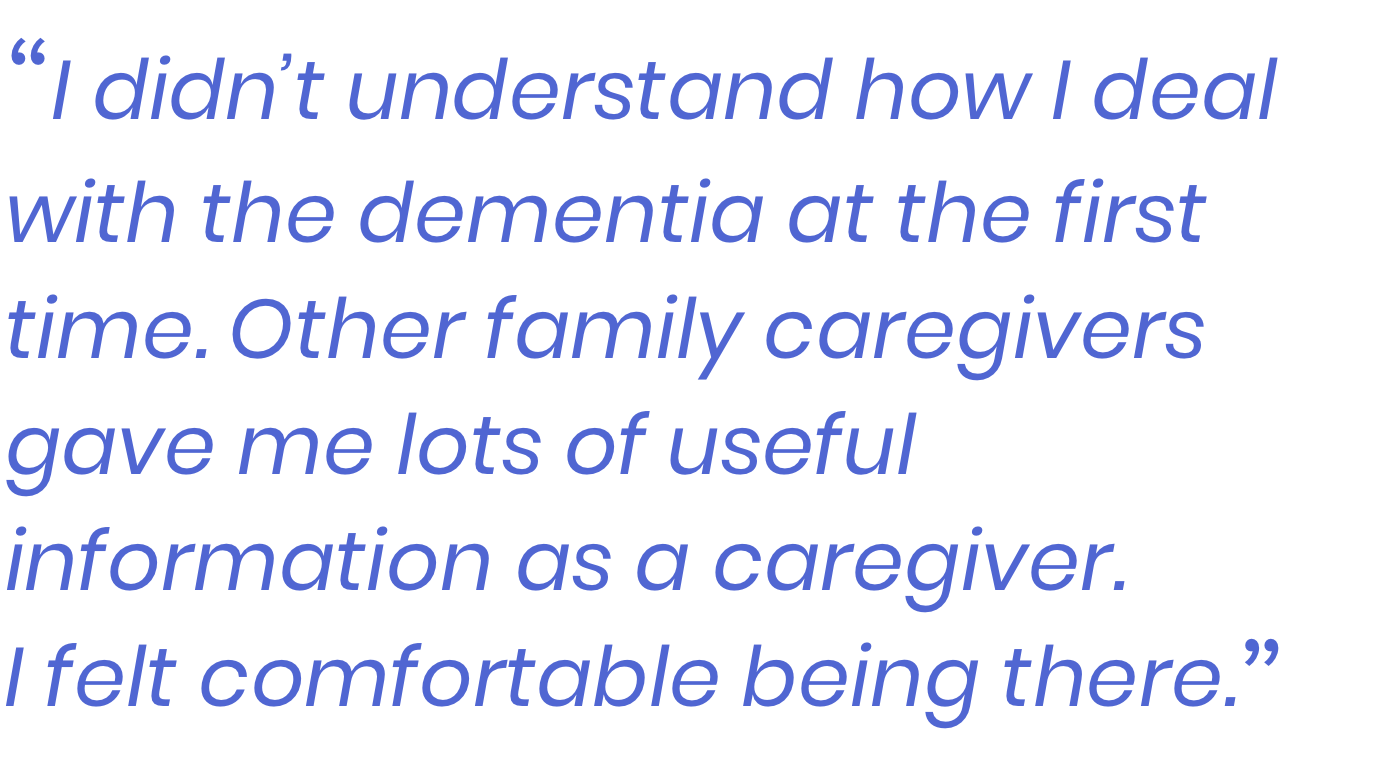 ---
Ten Types of Innovation

with an advisor from Deloitte, Doblin
The Ten Types of Innovation framework provides a way to identify new opportunities beyond products. Any combination of types can be present in an innovation, and innovators can start by focusing on any type in the framework.
UX Storyboard


---
8 Essential Attributes 
---
Insights
User Flowchart
Wireframes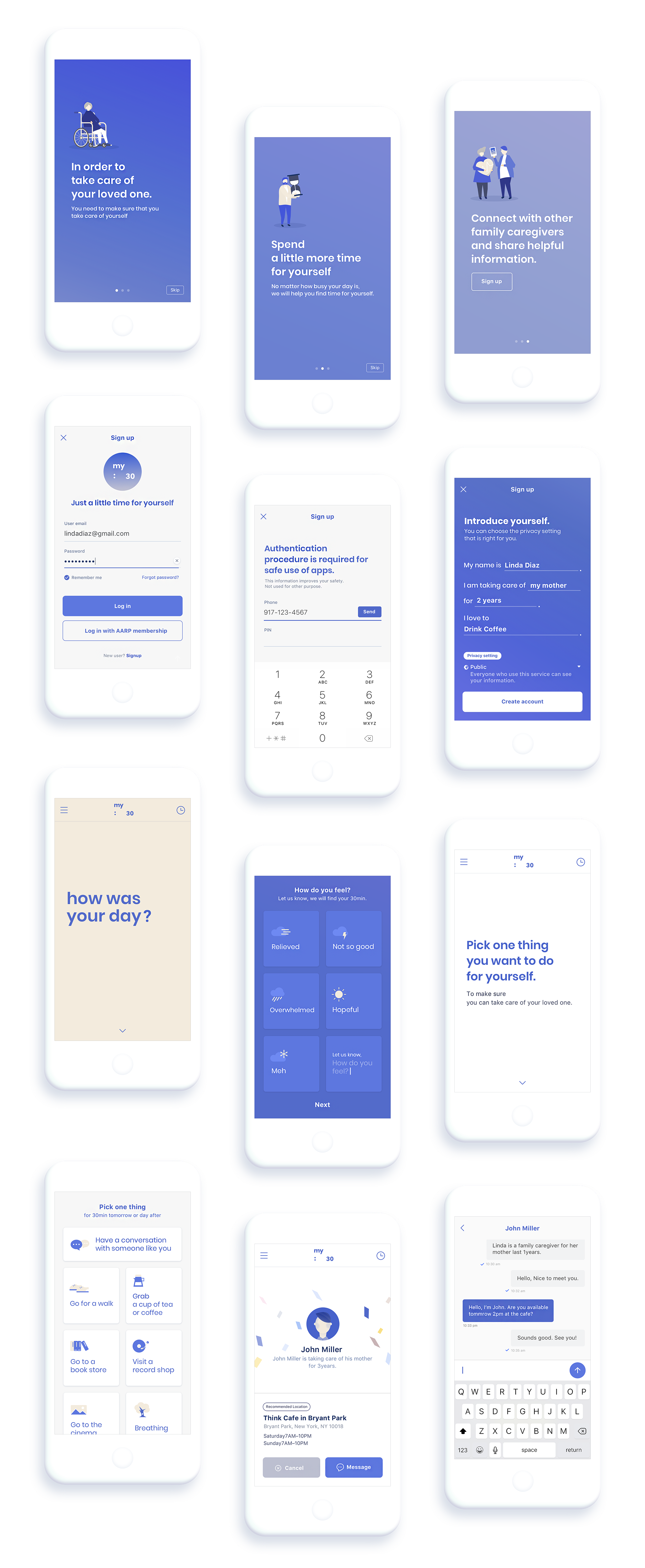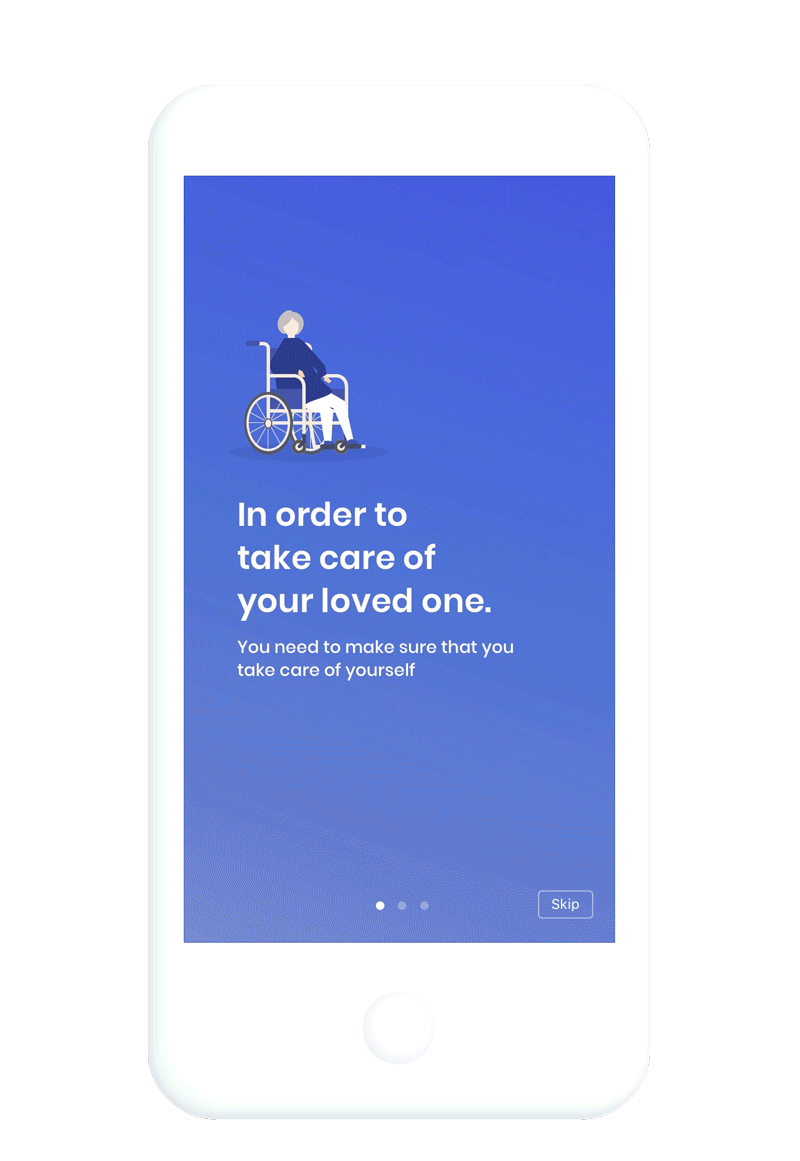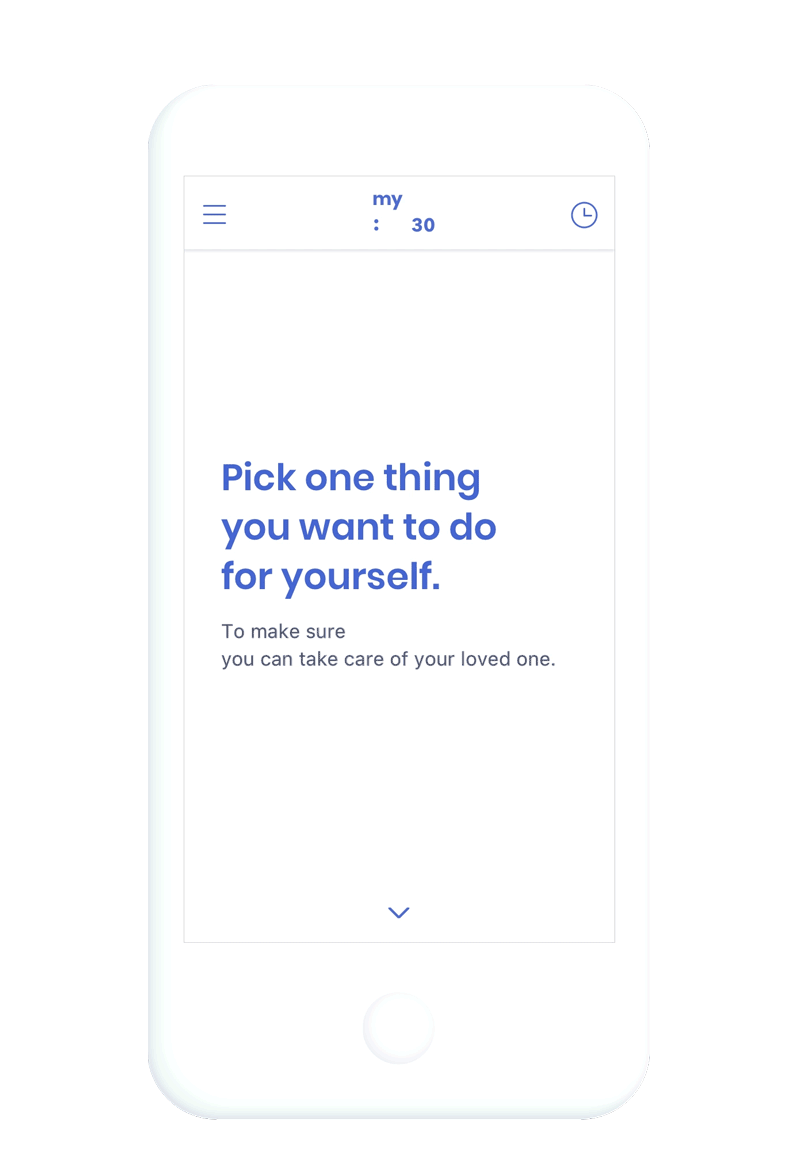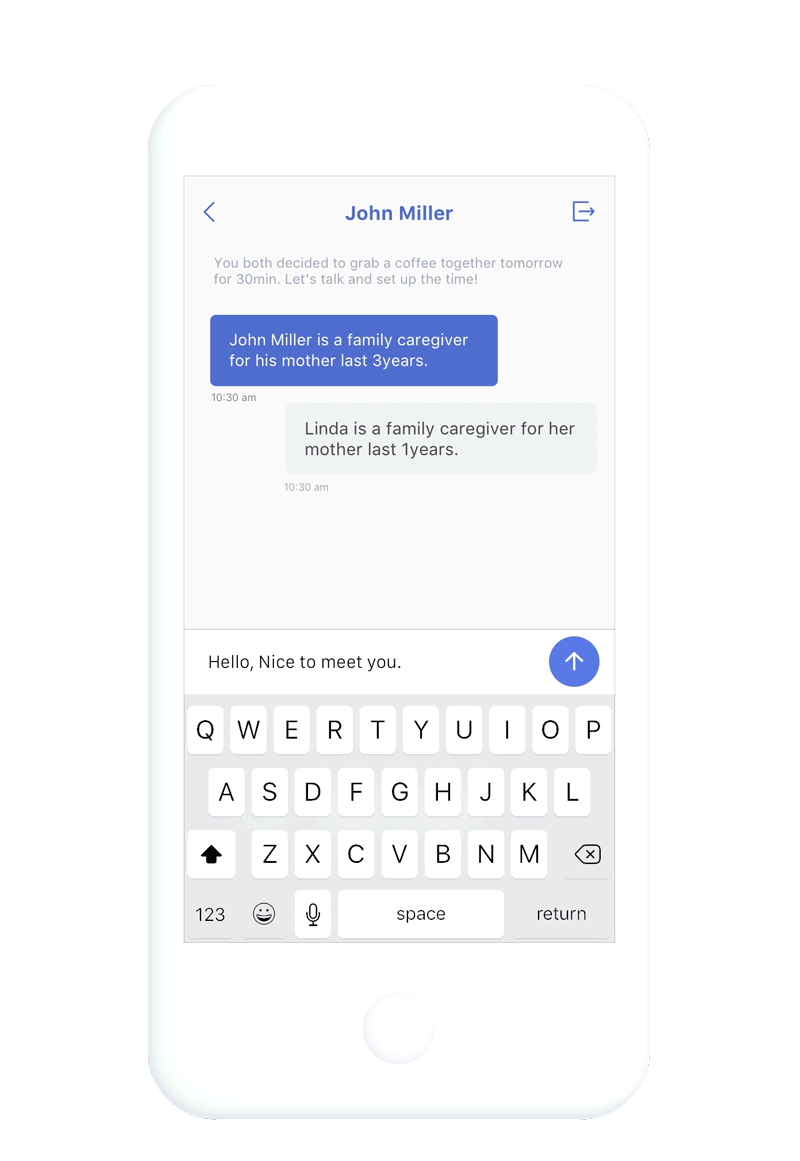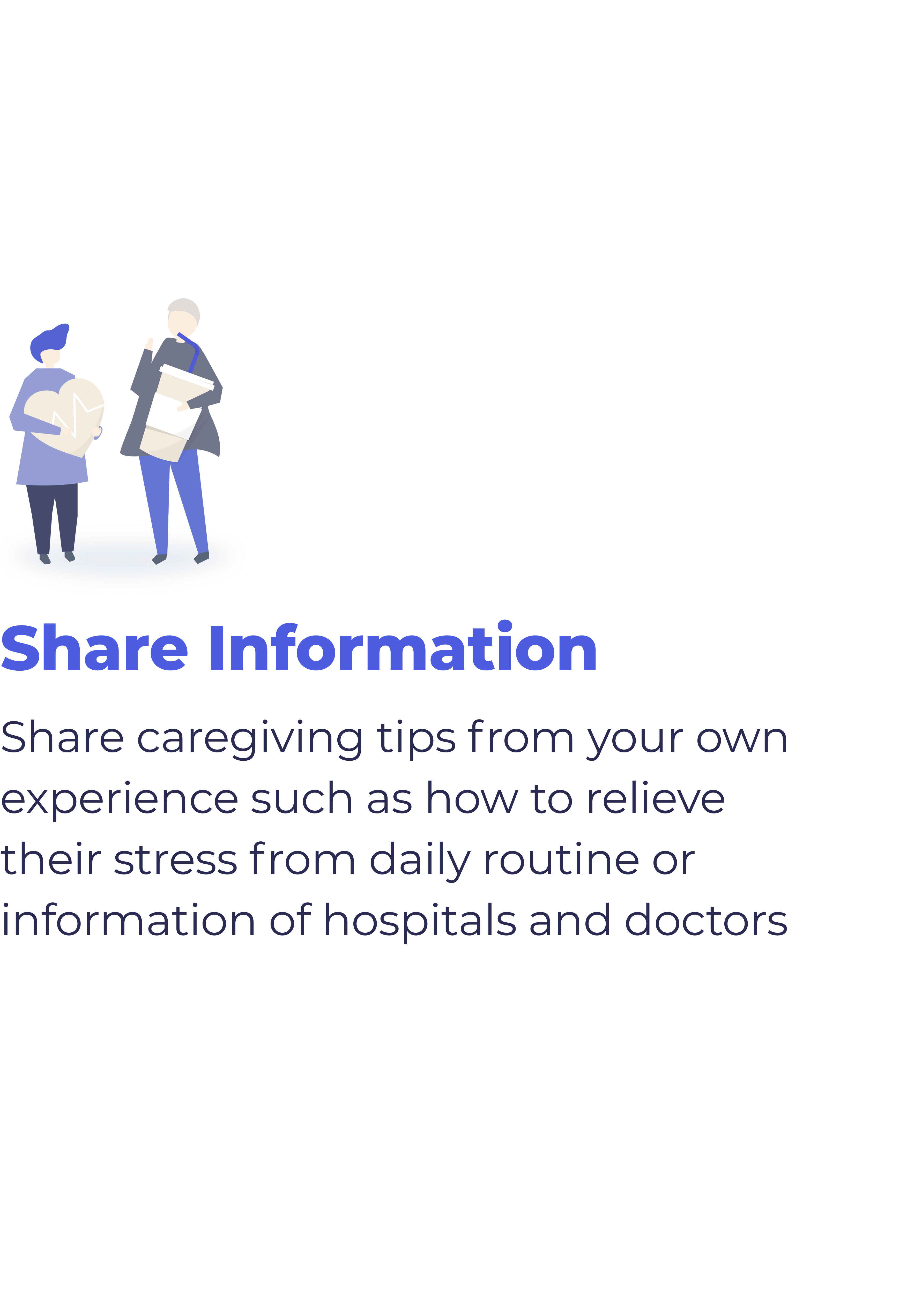 User Testing and Analysis
Throughout the design process we employed both formal and informal testing methods.
For late-stage design prototyping, I tested a medium-fidelity digital prototyping for young caregivers just like me. On the other hand, I suggested a lower-fidelity paper prototyping for several seniors who have bad eyes due to their ages.

Senior Planet is a senior center that teaches senior people how to use digital devices.
They shared their experience that seniors are much better with digital devices than many people assume.
Three participants loved our solution which is connecting to other caregivers in a similar situation through my 30min.
Results were mostly positive, although the participants raised concerns regarding privacy.
Paper Wireframe helped us to explain our idea physically to certain people who have bad eyes.
Overall, seniors found my 30min prototypes engaging, useful, and easy-to-use.
Promotions
at hospitals, pharmacies, insurance companies and streets in New York
Client's Feedback